TORONTO, Aug. 21, 2023 (GLOBE NEWSWIRE) — Latitude Uranium Inc. ("Latitude Uranium", "LUR" or the "Company") (CSE: LUR, OTCQB: LURAF, FRA: EI1) is pleased to provide an update to shareholders in an open letter from President and CEO John Jentz.
Dear Shareholders,
Throughout the past year, Latitude has solidified its position as a Canadian uranium explorer and developer. With the resurgence in the nuclear sector, I am pleased to share an update on the steps we are taking to position Latitude for future success. I would also like to extend a formal welcome to our new shareholders from Valore Metals Corp (TSXV: VO).
Transformative Restructuring to Latitude – Diversified and Derisked
I joined Latitude Uranium as CEO as part of the acquisition of the Angilak Project, which saw the Company add an excellent uranium asset in Canada with over $95 million previously spent advancing the project. Through a successful $12.6 million financing round, we fortified our financial position, enabling us to undertake a substantial 2023 exploration program at both Angilak and the CMB Project. Our focus since has revolved around enhancing efficiencies and prioritizing systematic exploration to deliver results.
Advancing Two District-Scale Projects in Proven Uranium Camps in Canada, with Angilak as the Centerpiece
We are strongly encouraged by our Canadian exploration portfolio with two district scale projects in proven uranium camps.
Angilak is a previously explored asset with notable historical results and as such is the centerpiece of our efforts. The project boasts a top-tier grade amongst the highest globally outside of the Athabasca Basin. Our focus is to demonstrate that along with its high-grade, Angilak has the potential to grow in size and become a leading development project globally. We commenced our 2023 work program with a radiometric survey and drilling inside of the Lac 50 trend, which we believe provides the best opportunity for extending known mineralization.
The 2023 drill program consists of 5,500 m and focuses on the Main Zone (Figure 1), confirming continuity in gaps of historical high-grade intersections, extending mineralization downdip from the near-surface mineralized zone, and defining new mineralization potential.
With the program progressing well, our scheduled mandatory break for our drill crew was moved to mid-August, to allow for continued productivity in drilling with over 85% of the program now complete. As a result, we are now expecting the first batch of preliminary drillhole results with CPS data (counts per second, handheld spectrometer) in the coming weeks with lab assays to follow. The first batch of core for assay is currently enroute to the Saskatchewan Research Council in Saskatoon, Saskatchewan. Drilling is currently paused for the required rest time as per Nunavut Workers' Safety and Compensation Commission regulations and will resume to complete the remaining less than 15% of the program in the last week of August.
Our longer-term plans for Angilak include an updated mineral resource estimate and regional target testing and expansion. We also plan to continue strengthening our social license to operate and build on the support already in place for the project. We remain encouraged by the Territory of Nunavut with its strong mineral endowment, and clear permitting process which is fair and tested. Nunavut continues to establish itself as an attractive jurisdiction for exploration and mining with four operating mines providing the largest private sector contribution to the economy.
Within our Central Mineral Belt Project ("CMB Project"), we are in the process of completing a Falcon Airborne Gravity Gradiometer, Gravity, Magnetic and Radiometrics Survey across the entire belt. This is the first time in 60 years in which data will be compiled across this vast land package providing pertinent data on new drill targets and the geological potential of the region. The survey is designed to identify favourable gravity anomalies and coincident to near-coincident magnetic anomalies typically characteristics of uranium and IOCG-type deposits. The survey has begun and due to its large size should be complete including interpretation before year-end. While the CMB remains a much longer-term opportunity for Latitude, we remain encouraged by its district-scale potential. Newfoundland and Labrador recently ranked as the 4th most attractive jurisdiction in the world in terms of mining investment by the Fraser Institute, and we are encouraged by the recent activity announced by Paladin Energy to advance exploration at its 128-million-pound JORC-compliant Michelin Deposit1.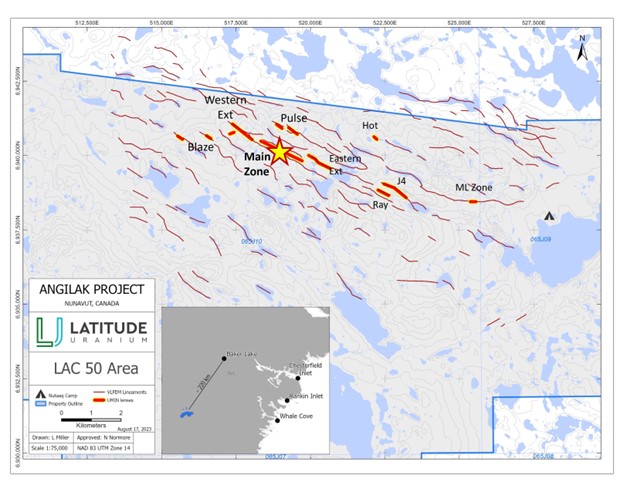 Figure 1: LAC 50 Mineralized Trend on the LUR Angilak Property, Nunavut.
Yellow star indicates Main Zone drilling area.
Nuclear Energy Fundamentals Remain Strong, with a Growing Need for Uranium from Stable, Democratic Regions
Canada has a global reputation as a stable, reliable supplier of uranium, ranking as the second-largest global producer2. While domestic production is concentrated in Saskatchewan, with continuing exploration, we believe Canada has a significant role to play in meeting future demand.
On a political landscape, Canada has implemented recent policy and regulatory decisions in support of nuclear. This includes significant advancements in Ontario with its first large-scale nuclear build in a generation3, as well as four separate provinces committing to the development of Small Modular Reactors (SMRs) technology4. Additionally, Hydro-Quebec recently launched an assessment for the potential revival of Gentilly-2, Quebec's only nuclear power plant which was shut down in 20125. All this progress is ample evidence of the country's energy landscape undergoing a transformative shift, for a significant expansion in the future.
As Market Conditions Advance, We Believe We Are Well Positioned to Harness the Ensuing Tailwinds for Our Canadian Advantage
I am optimistic about the trajectory that lies ahead and confident in the strong footing we are putting in place today, which includes:
Two district-scale projects in proven uranium camps in Canada
Advancing Angilak, which has a 43.3m lbs U3O8 historical inferred resource at 0.69%, one of the highest-grade uranium resources outside of the Athabasca Basin6
Fully funded 2023 exploration program on both assets
Proven company builders with a leading technical team
Sincerely,
John Jentz
Sources:
https://www.paladinenergy.com.au/exploration/michelin-canada/#intro-section

Refer ASX Announcement dated 31 January 2018 "Correction to 30 June 2017 Annual Report" pp13-15 (reporting standard JORC 2012)
Refer SEDAR lodgment (TSX:FRG) dated 8 September 2009 "Fronteer Reports Positive Preliminary Economic Assessment for Michelin Uranium Project" (reporting standard JORC 2004)

https://www.saskatchewan.ca/government/news-and-media/2023/june/13/saskatchewan-second-largest-global-producer-of-uranium
https://news.ontario.ca/en/backgrounder/1003234/ontario-starts-pre-development-work-for-new-nuclear-generation-at-bruce-power
This estimate is considered to be a "historical estimate" under National Instrument 43-101 – Standards of Disclosure for Mineral Projects ("NI 43-101") and is not considered by Labrador Uranium to be current. See below for further details regarding the historical mineral resource estimate for the Angilak Property.

Mineral resources which are not mineral reserves do not have demonstrated economic viability.
The estimate of mineral resources may be materially affected by geology, environment, permitting, legal, title, taxation, sociopolitical, marketing or other relevant issues.
The quality and grade of the reported inferred resource in these estimations are uncertain in nature and there has been insufficient exploration to define these inferred resources as an indicated or measured mineral resource, and it is uncertain if further exploration will result in upgrading them to an indicated or measured resource category.
Contained value metals may not add due to rounding.
A 0.2% U3O8 cut-off was used.
The mineral resource estimates contained in this table are considered to be "historical estimates" as defined under NI 43-101 and are not considered by LUR to be current.
Reported by ValOre Metals Corp. in a Technical Report entitled "Technical Report and Resource Update For The Angilak Property, Kivalliq Region, Nunavut, Canada", prepared by Michael Dufresne, M.Sc., P.Geol. of APEX Geosciences, Robert Sim, B.Sc., P.Geo. of SIM Geological Inc. and Bruce Davis, Ph.D., FAusIMM of BD Resource Consulting Inc., dated March 1, 2013.
As disclosed in the above noted technical report, the historic estimate was prepared under the direction of Robert Sim, P.Geo, with the assistance of Dr. Bruce Davis, FAusIMM, and consists of three-dimensional block models based on geostatistical applications using commercial mine planning software. The project limits area based in the UTM coordinate system (NAD83 Zone14) using nominal block sizes measuring 5x5x5m at Lac Cinquante and 5x3x3 m (LxWxH) at J4. Grade (assay) and geological information is derived from work conducted by Kivalliq during the 2009, 2010, 2011 and 2012 field seasons. A thorough review of all the 2013 resource information and drill data by a Qualified Person , along with the incorporation of subsequent exploration work and results, which includes some drilling around the edges of the historical resource subsequent to the publication of the 2013 technical report, would be required in order to verify the Angilak Property historical estimate as a current mineral resource.
The historical mineral resource estimate was calculated in accordance with NI 43-101 and CIM standards at the time of publication and predates the current CIM Definition Standards for Mineral Resources and Mineral Reserves (May, 2014) and CIM Estimation of Mineral Resources & Mineral Reserves Best Practices Guidelines (November, 2019).
Qualified Person (QP)
The technical information in this news release has been reviewed and approved by Nancy Normore, M.Sc., P.Geo, vice president of exploration for Latitude, who is a "Qualified Person" (as defined in NI 43-101).
About Latitude Uranium Inc.
Latitude Uranium is exploring and developing two district-scale uranium projects in Canada. Our primary focus is expanding the resource base at Angilak, which ranks amongst the highest-grade uranium deposits globally, outside of the Athabasca. Additionally, we are advancing the CMB Project, situated in the prolific Central Mineral Belt in central Labrador adjacent to the Michelin Deposit, with numerous occurrences of uranium, copper and potential IOCG style mineralization.
For More Information, Please Contact:
Latitude Uranium Inc.
John Jentz
CEO
jjentz@latitudeuranium.com
Investor Relations
Toll-Free: 1-833-572-2333
Email: info@latitudeuranium.com
Website: www.latitudeuranium.com
Twitter: @LatitudeUr_
LinkedIn: https://www.linkedin.com/company/latitude-uranium-inc/
Cautionary Statement Regarding "Forward-Looking" Information
This news release contains "forward-looking information" within the meaning of applicable Canadian securities laws. "Forward-looking information" includes, but is not limited to, statements with respect to activities, events or developments that the Company expects or anticipates will or may occur in the future including, but not limited to, the 2023 drill program and expected timing of the results thereof; the Company's planned exploration focus for 2023; the Company's ongoing business plan, sampling, exploration and work programs. Generally, but not always, forward-looking information and statements can be identified by the use of words such as "plans", "expects", "is expected", "budget", "scheduled", "estimates", "forecasts", "intends", "anticipates", or "believes" or the negative connotation thereof or variations of such words and phrases or statements that certain actions, events or results "may", "could", "would", "might" or "will be taken", "occur" or "be achieved" or the negative connotation thereof.
Forward-looking information and statements are based on our current expectations, beliefs, assumptions, estimates and forecasts about LUR's business and the industry and markets in which it operates. Such forward information and statements are based on numerous assumptions, including among others, that general business and economic conditions will not change in a material adverse manner, that locations of historical mineral resources estimates could lead to new mineralization discoveries and potentially be verified as current mineral resource estimates, that financing will be available if and when needed and on reasonable terms to conduct further exploration and operational activities, and that third party contractors, equipment and supplies and governmental and other approvals required to conduct LUR's planned exploration activities will be available on reasonable terms and in a timely manner. Although the assumptions made by LUR in providing forward-looking information or making forward-looking statements are considered reasonable by management at the time, there can be no assurance that such assumptions will prove to be accurate.
Forward-looking information and statements also involve known and unknown risks and uncertainties and other factors, which may cause actual results, performances and achievements of LUR to differ materially from any projections of results, performances and achievements of LUR expressed or implied by such forward-looking information or statements, including, among others: limited operating history, negative operating cash flow and dependence on third party financing, uncertainty of additional financing, delays or failure to obtain required permits and regulatory approvals, no known mineral resources/reserves, aboriginal title and consultation issues, reliance on key management and other personnel; potential downturns in economic conditions; availability of third party contractors; availability of equipment and supplies; failure of equipment to operate as anticipated; accidents, effects of weather and other natural phenomena and other risks associated with the mineral exploration industry; changes in laws and regulation, competition, and uninsurable risks, community relations, delays in obtaining governmental or other approvals and the risk factors with respect to LUR set out in LUR's annual information form in respect of the year ended November 30, 2022 filed with the Canadian securities regulators and available under LUR's profile on SEDAR at www.sedar.com.
Although LUR has attempted to identify important factors that could cause actual actions, events or results to differ materially from those contained in the forward-looking information or implied by forward-looking information, there may be other factors that cause results not to be as anticipated, estimated or intended. There can be no assurance that forward-looking information and statements will prove to be accurate, as actual results and future events could differ materially from those anticipated, estimated or intended. Accordingly, readers should not place undue reliance on forward-looking statements or information. LUR undertakes no obligation to update or reissue forward-looking information as a result of new information or events except as required by applicable securities laws.